The new earphones in true wireless of Padmate, a company well known in the mobile audio sector, are a mix of solidity and quality, but … will they succeed in satisfying the very high expectations dictated by the success of the predecessors? Let's find out together
PRO
Exceptional autonomy
Reverse Wireless Charging
Ergonomics
Price
VERSUS
Impressive houses of poor quality
Complex gestures
Lack of a dedicated app
SALES PACKAGE
PaMu Slide are sold in an elegant package including earphones, charging case, USB Type-C cable for charging, spare rubber pads of different sizes and an instruction manual.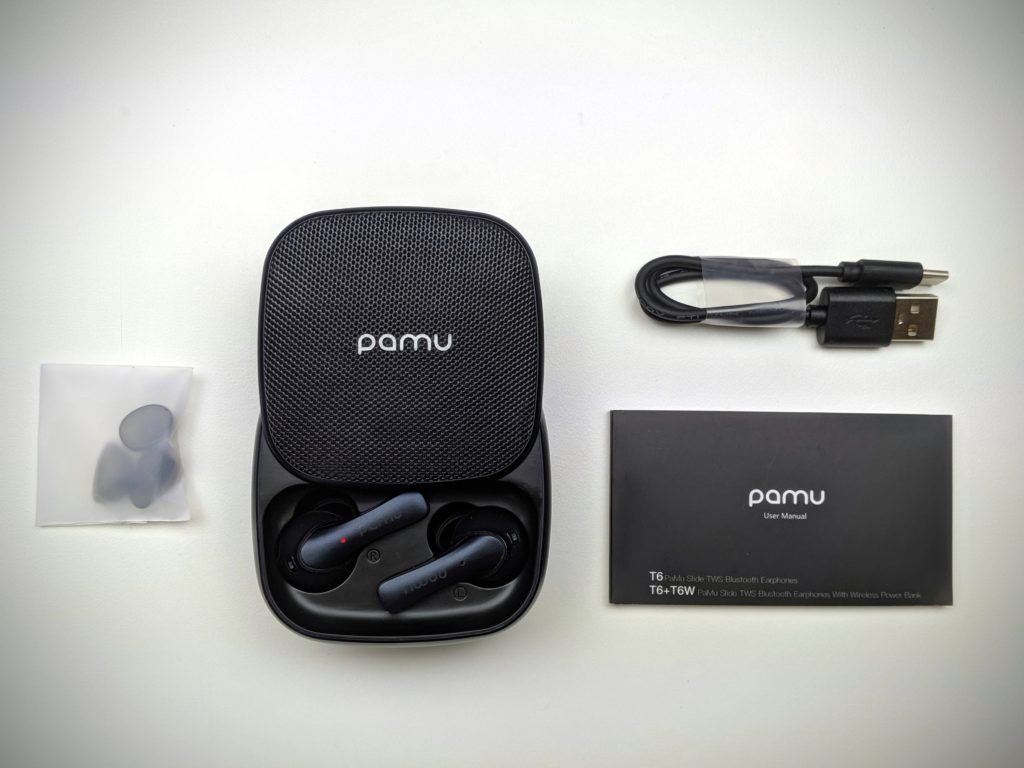 CONSTRUCTION AND ERGONOMICS
PaMu Slide are complex to judge from this point of view.
The case consists of a solid plastic block equipped with a "Slide" for the sliding closure, inside which there are the two headphones, which fit together magnetically.
The transport / recharge case has the function of Qi recharging, and also for this convenient reason it is bulky and heavy to carry, even if on the other hand it offers an excellent operating autonomy.
Present the convenient USB Type-c socket and the on / off button.
Speaking instead of earphones, the subject changes, that is they are really comfortable to wear and light, remaining firmly in the ear even in difficult conditions, such as during physical activity in the gym or running.
The earphones are IPX6 certified, so they resist rain and sweat.
AUDIO QUALITY
PaMu Slide struck us very favorably for the sound quality that they offer, making it excellent if considered the market position in which they are included.
Wearing with the rubber pads corresponding to your ear, we have a deep and well-emphasized sound, separating very well the bass, middle and treble, so as to make listening pleasant.
They do not have active noise cancellation when listening to multimedia, but instead it is present in conversation, where the PaMu Slides defend themselves very well, both in terms of capsules and microphone, managing to be both good in conversation and in listening.
BATTERY
And here is the real flagship of PaMU Slide. Every single charge allows a full 10 hours of complete operation, while the 2000 mAh case guarantees 60.
The charging port is a USB Type-C, while the case can be transformed into a wireless Power Bank able to recharge other Qi devices, such as smartwatches and smartphones.
CONNECTIVITY '
PaMu Slide are equipped with the new Qualcomm QCC3020 processor, which allows the earphones to connect simply by taking full advantage of Bluetooth 5.0 technology for a quick pairing with the smartphone.
The range of use is really wide, while the latency is almost absent. Also present is the aptX audio codec.
In daily use we have not found disconnections, neither with iOS devices nor with Android.
CONTROL SYSTEM
PaMu Slide are fully touch true wireless headphones, controlled by different gestures.
However, the latter are complex to use at first, and require a minimum of practice. The small capacitive ring is positioned in the upper part of the earphones and is difficult to reach.
The left and right earpieces have different control features: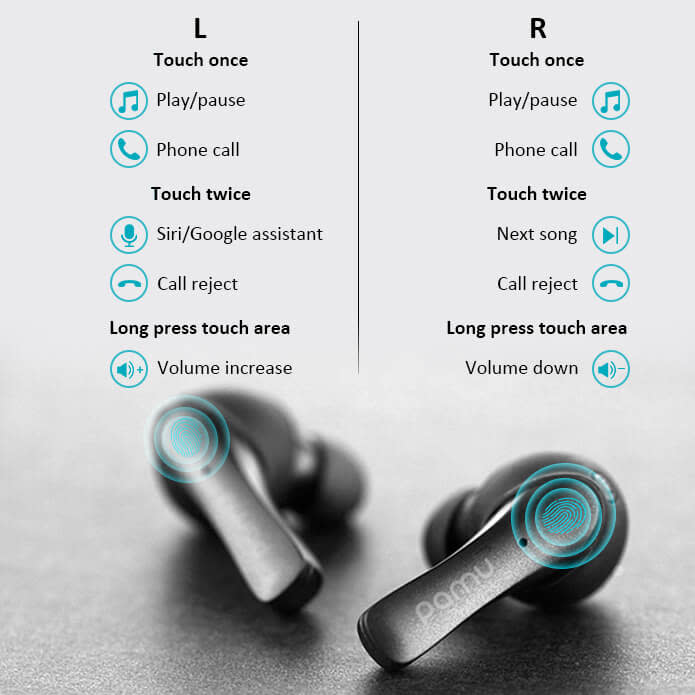 They require a certain practicality, even if with a little patience you learn quite quickly.
CONCLUSIONS
PaMu Slide are offered at a price lower than 45 euros in the standard version, and 60 euros in the Qi wireless charging version, and can be purchased through a dedicated campaign on the famous Indiegogo portal.
At the proposed price they are really competitive from all points of view, in terms of audio quality, construction, functionality and, above all, truly impressive autonomy for both the earphones and the transport case.
What is certain is that we cannot expect everything. We should therefore make compromises concerning the size of the case, the construction quality of the latter which is not excellent, a complex gesture system and the lack of a dedicated app.
Net of this we recommend the PaMu Slide without hesitation, which with a reasonable amount allows us to enjoy countless features, and above all excellent sound and autonomy that will no longer worry us.
Recommended without hesitation, fully satisfied with their use, the PaMu slides have become our leisure and training companions during these weeks.