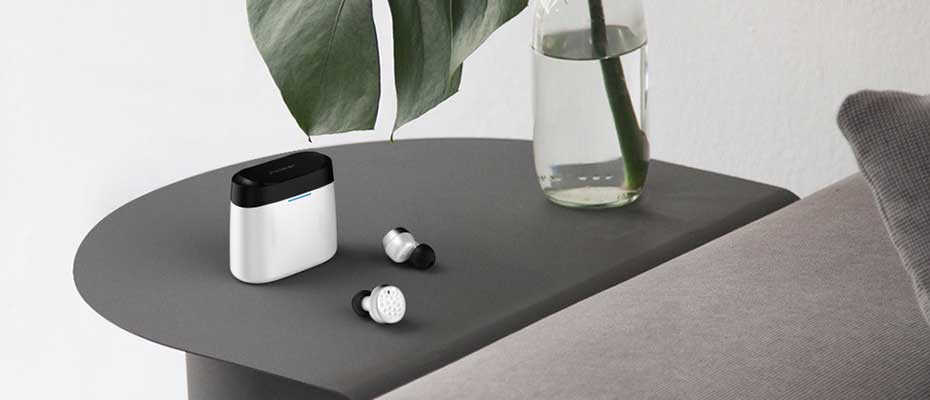 Padmate's Tempo T5 was developed based on PaMu, an audio specialty brand that has provided over $6 million in support from crowdfunding INDIEGOGO in the United States, It is a complete wireless earphone with the latest technology reduced to a minimal design. This is a Bluetooth earphone that adopts the latest Qualcomm chip and has enhanced functions such as enhanced bass while meeting user needs, such as touch remote control, waterproof function, and unique design.
Latest Qualcomm Chip & AptX Codec
Based on a proprietary module and employing Qualcomm's latest chipset and Bluetooth v5 technology, it is a comfortable earphone that is easy to connect to the device and hard to cut off the sound.
It compresses audio files by shrinking them so that they can be sent through a wireless "pipe" so that pure audio can be sent wirelessly via Bluetooth without sacrificing sound quality. With aptX, you can enjoy high quality music anytime, anywhere.
While maintaining the design of a small, ultra-lightweight earphone, it has achieved the largest sound that a completely true wireless earphones with a compact design can produce. The bass is rich, the mid and treble sounds are crisp, and the sound is well-balanced, clear and powerful in any range.
Earphones can play music for about 6 hours continuously when fully charged. With the charging case, you can play music for up to about 30 hours.
Ergonomic Design
The earphone body is small, only 5g in one ear, lightweight and rounded design, has an excellent fit and is designed to be hard to fall off from the ear. We play an active part in various scenes of commuting, attending school, sports scene, everyday life. In addition, you can enjoy your own sound even in a noisy environment by using a highly sound-insulating eartip to keep out external sounds.
Excellent waterproof performance of waterproof level IPX6, respond to sudden rain and sweat during exercise, can be used during showers as well as sweat and rain during exercise.
Auto Pairing
Power is turned on just by removing the earphones from the charging case, and the left and right earphones are automatically paired. Bluetooth initialization is a simple tap on devices such as smartphones and tablets. Once set, the device has an auto-pairing function that is automatically paired, which is very easy.
Hands-free call function & binaural call possible
At the time of an incoming call, you can operate by simply clicking the button of the earphone, so you can talk directly without removing the smartphone from your bag. As it is possible to talk with both ears, you can hear clearly and the clarity of the voice will increase.