The Pamu Scrolls are bluetooth 5.0 wireless in ear headphones, which have had a great success on the indigogo crowfounding site and given the attractive price of $39, and I bought them too. My impressions after about a month of daily use. They look good, have a case that also serves as a power bank, covered with leather, have a magnet closure and I really say they make a nice effect because of the leather that covers the case.
Even their anchoring to the base is magnetized so as to make it very easy to insert them in the base, as soon as they are recharged, with a cable equipped with micro usb, just take the master earpiece, which is the one on the right, that the coupling with the smartphone it's really INSTANT !!!!!
The audio quality is good, the bass is there and the caller has always listened to me sufficiently. The power bank contained in the case is able to recharge the earphones 3-4 times and the earphone battery lasts from 3 to 4 hours and also depends very much on the listening volume and the listening distance from the smartphone.
To be honest I haven't been using it so much lately, a little bit I was disappointed, seeing the reviews of so many sites and youtuber I was expecting something more.
What convinced me of these pamu scroll is the aesthetic aspect of the really sought after product, the instant coupling to the smartphone and a "good" audio quality.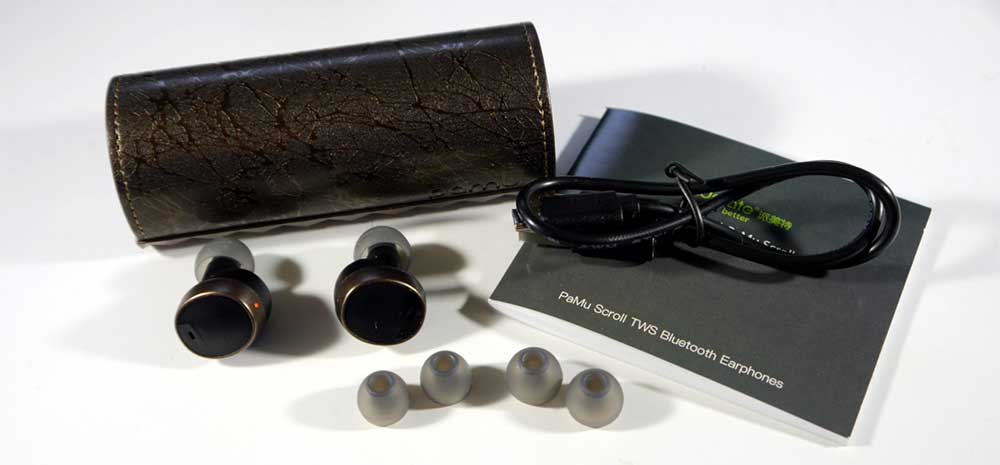 Instead, what has not convinced me is that it takes about 20 sec to decouple from the smartphone and in this period of time if a call comes in, even if we have placed the earphones in the base, unfortunately we do not hear the interlocutor and he does not hear us. Another flaw, in my opinion, is that it is not easy to insert them in your ear, at least I, who are not really novices, have not succeeded and I have always been afraid of losing them at any moment. Another thing that I did not like is the size of the case / case, because while it is one of the best things about these headphones, you see the leather that covers them, the quality of the finishes etc. the base is still a little big compared to that of its competitors.
Ultimately I would recommend them under $80, indeed I think they are worth the effort, more than that amount, I would look around because there are so many products on the market with more or less similar characteristics. On the other hand, your appearance is important to you and fundamental admiration in those close to you, the pamu scroll are not afraid to compare, they are the earphones that do for you … .. ?